Auto troubles are no fun—especially when they leave you stranded on the side of the road or with a vehicle that's not able to be driven. In these situations, it's best to call a reputable towing company in Alice, TX.
When you make the call to Danny's Wrecker Service, Inc, we'll act fast to deliver the towing services you need, no matter where you are.
Towing & More
We provide towing services in Alice, Jim Wells County, Corpus Christi, and San Diego, TX to vehicles of all types and sizes. From sedans and SUVs, to light- and heavy-duty trucks, no matter what issues befalls you out on the road, count on us to come to your assistance. We'll make sure your vehicle is quickly hauled to safety. We operate in and around Alice, TX and can travel up to 250 miles throughout the state to your location.
Vehicle Recovery
Stuck in a ditch? Flooded your engine in high water? Vehicle immobilized after an accident? We offer vehicle recovery services to remove you from whatever sticky situation you're in. We work quickly to extract your vehicle and ensure it's safely loaded up and hauled away from the scene. Just let us know what the issue is and we'll arrive with the right equipment to get the job done.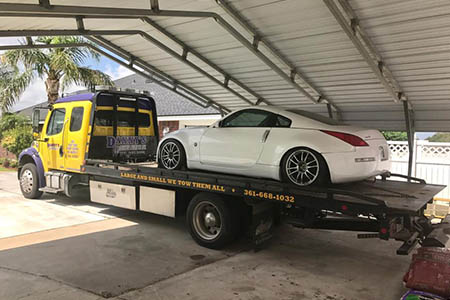 Roadside Assistance
We're able to deliver a complete scope of roadside services to drivers who may have hit a rough patch out on the road. Give us a call for any of the following types of roadside assistance:
Jumpstarts
Tire changes
Engine overheats
Gas delivery
Vehicle Lockout Service
Locked yourself out of your car? No sweat! Give us a call and we'll come pop your locks quickly and cleanly. Whether you're in the parking lot at work, far from home or right in your own driveway, we'll come to you and get you back behind the wheel.
Reach Danny's Wrecker Service, Inc today at 361-668-1032 for any of the above towing services, vehicle hauling, commercial truck services, and more, or to let us know how we can assist you in your time of need.