The fleet at Danny's Wrecker Service, Inc contains just about any kind of commercial truck you might need to ensure your assets are properly hauled. We've got flatbeds for jobs like heavy equipment hauling in Alice, Jim Wells County, Corpus Christi, and San Diego, TX, as well as specialized belly dump trailers and sand trailers for material delivery and spreading. Regardless of your needs, we're ready to meet and exceed your expectations.
We work with customers of all types to deliver towing services according to their needs—whether it's for aggregate materials, equipment or vehicles. Just let us know the details of your job and we'll send the right truck and an experienced operator out to you quickly. You're always in good hands when we're on the job.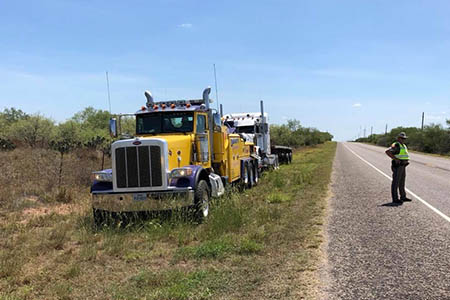 Belly Dump Trailers (With Driver)
If you're moving rock, sand or other aggregate and need the assistance of a belly dump trailer, we've got what you need and more! Not only do we have belly dump trailers ready to roll as part of our fleet, we have operators available who are well-seasoned and able to properly maneuver these trailers to wherever you need them. We'll dump aggregate with precision and ensure everything is done quickly and carefully.
Sand Trailers (With Driver)
Carrying sand in Alice, TX requires the use of special sand trailers. These trailers require specialized driver experience to maneuver and operate—experience that our seasoned drivers bring to every job. Make us the first company you call when you need sand transported and we'll make sure the job is handled appropriately, in accordance with your unique needs.
Questions about our capabilities? Want to get an estimate on your unique job? Reach us today at 361-668-1032 and give us the details. We'll work with you to coordinate the right service, delivered by qualified professionals using the very best in top-of-the-line equipment.